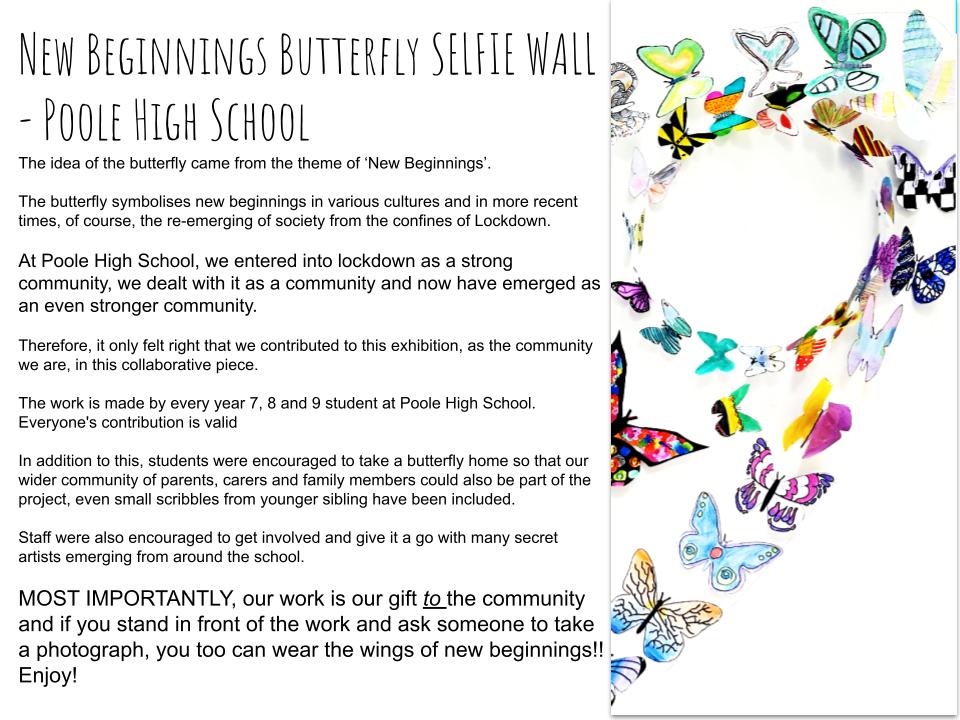 To celebrate all the hard work of the teachers and students from our wonderful partner schools, we are holding an exhibition exploring the theme of 'New Beginnings'. Work from local schools including Poole High Schoolis on display on the Top Floor Gallery at the Lighthouse -– do make sure you go and take a look! (https://www.lighthousepoole.co.uk/the-big-art-exhibition/)
New Beginnings Butterfly SELFIE WALL – Poole High School.
The idea of the butterfly came from the theme of 'New Beginnings'. The butterfly symbolises new beginnings in various cultures and in more recent times, of course, the re-emerging of society from the confines of Lockdown.
At Poole High School, we entered into lockdown as a strong community, we dealt with it as a community and now have emerged as an even stronger community. Therefore it only felt right that we contributed to the exhibition as the community we are in this collaborative piece.
The work is made by every year 7, 8 and 9 students at Poole High School. Everyone's contribution is valid, and in addition to this, students were encouraged to take a butterfly home so that our wider community of parents, carers and family members could also be part of the project, even small scribbles from younger sibling have been included. Staff were also encouraged to get involved and give it a go with many secret artists emerging from around the school.
MOST IMPORTANTLY, our work is our gift to the community and if you stand in front of the work and ask someone to take a photograph, you too can wear the wings of new beginnings!! Enjoy!