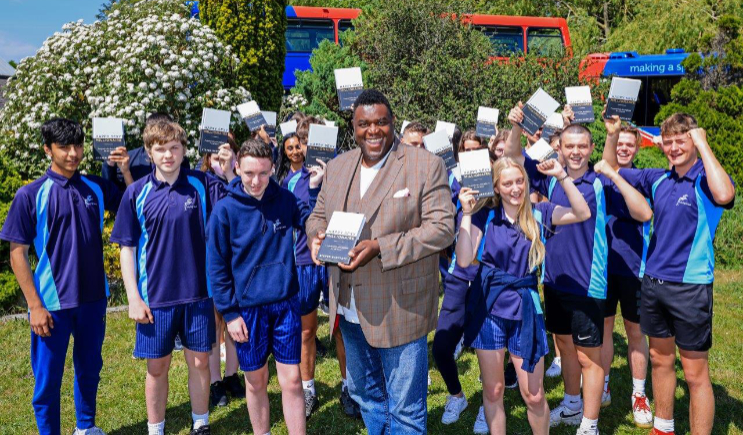 Aspiring young entrepreneurs at Poole High School can now read the full story of an inspirational businessman – thanks to an award-winning IT company.
Poole-based Anytech Solutions has donated 50 copies of Steven Bartlett's Forbes 30 book 'Happy Sexy Millionaire' to year 10 students.
Chris Palmer, Owner of the multi-disciplined IT support business, said: "We want to support as many children as we can in Dorset and enable them to realise their full potential.
"The next generation is our future.
"Steven's book is a true insight into his journey from university drop-out to starting one of the most successful social media companies in the world."
At just 27 years old, Steven Bartlett has already retired from his social media marketing business, Social Chain, but still employs more than 700 people worldwide and continues to revamp the social media landscape.
He started his business from his bedroom in Manchester, aged 22, and took it public in 2019 with a market evaluation exceeding £170m.
The new book – 'Happy Sexy Millionaire: Unexpected Truths about Fulfilment, Love and Success' – is his latest venture. He's keen for aspiring young entrepreneurs to read about the lessons he has learned. The businessman also hopes it will teach readers how to achieve personal success 'without losing sight of all the other things that make life fundamentally worthwhile'.
Debbie Porter, Head of Careers, Education and Information Guidance at Poole High School, pictured with Chris, believes the books will make fascinating reading for sixth form business studies students. She added: "It's so generous of AnyTech Solutions to make this donation of books which our students are already finding hard to put down.
"Steven's book has such a rounded message for youngsters about the balance between life goals and career goals. "Who knows, a Poole High pupil could be the next Steven Bartlett success story!" A video of Chris presenting the books to the school can be seen here.
All pictures courtesy of Paul Collins/Anytech Solutions.